Who's going to claim the bragging rights for John Rowley's Biggest, Baddest Lingcod Competition 2020?
It could be you!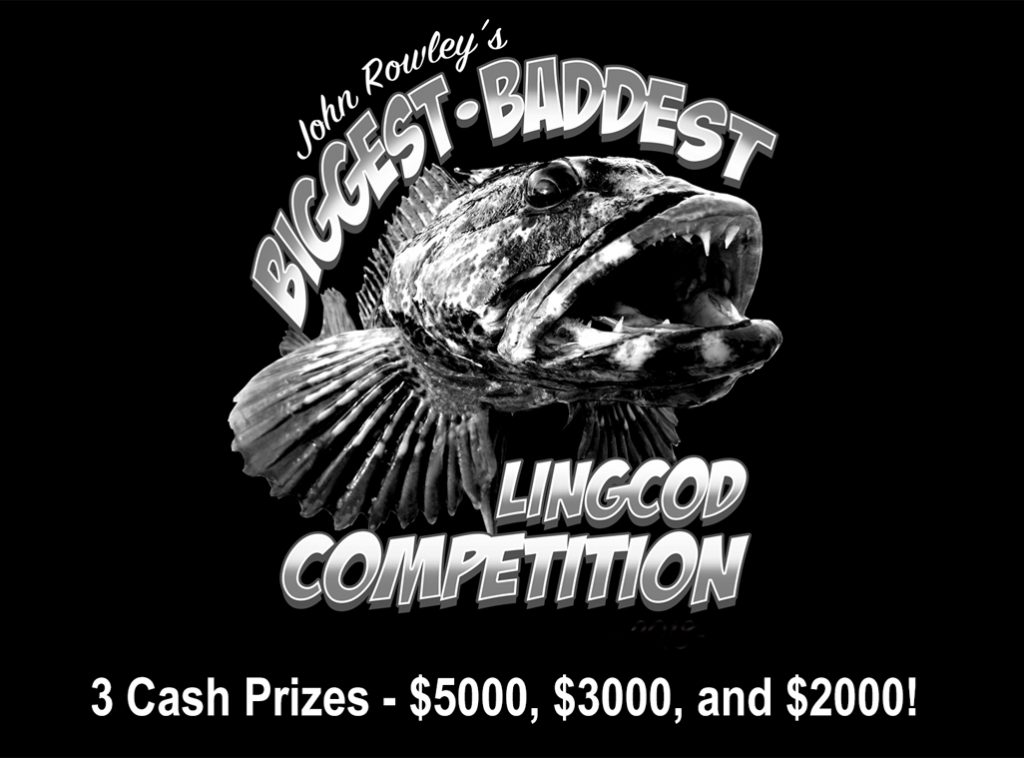 Biggest, Baddest Lingcod Competition Sponsored by Virg's Landing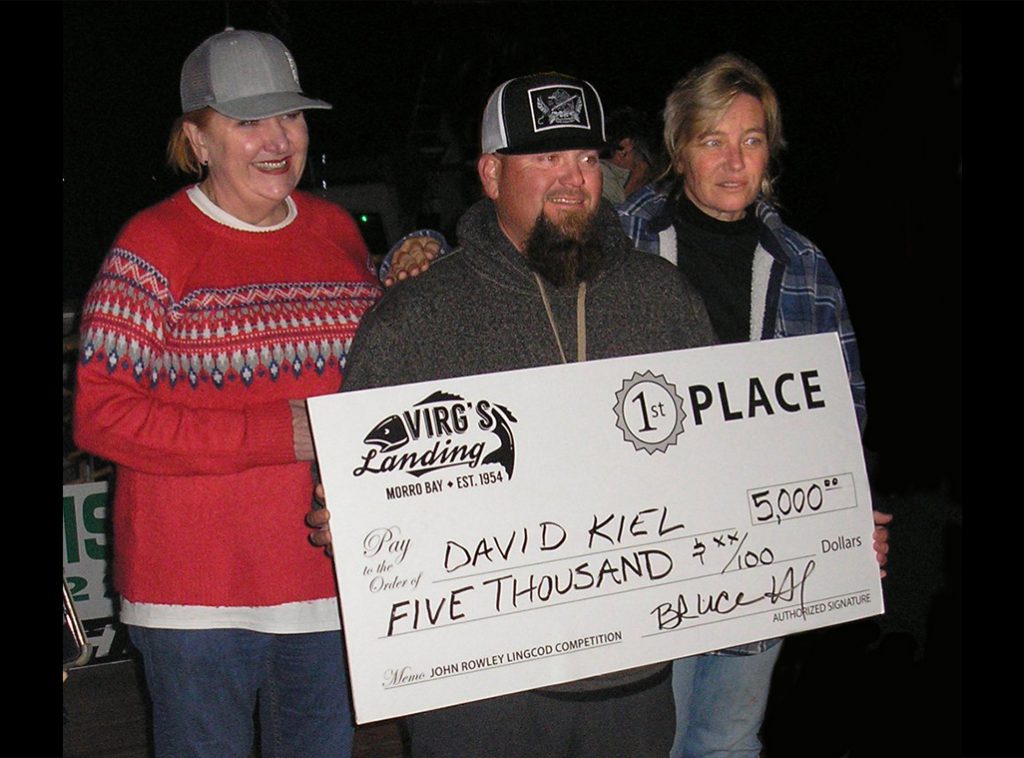 David Kiel took home $5,000 in 2018!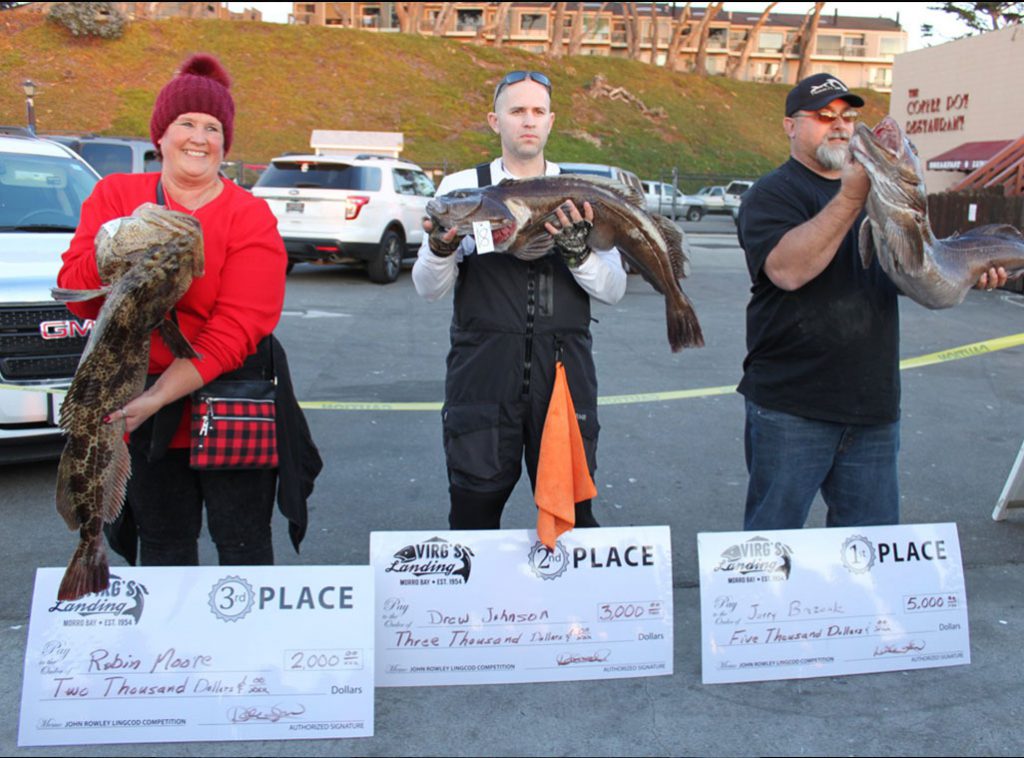 Biggest, Baddest Winners in 2017
There's lots of time to qualify for the 7th Annual John Rowley's Biggest, Baddest Lingcod Competition with $10,000 in cash prizes.
During the December fish-off, three anglers will split the jackpot with first place winning $5,000, second $3,000 and third reeling in $2,000.
Who qualifies to compete? Each week, whoever catches the biggest lingcod on a Virg's Landing vessel automatically qualifies for a fish-off seat. The competition continues until November 30, and every week someone will qualify for the competition.
How do YOU get in on this competition? Just book a fishing trip on Virg's Landing and catch the biggest lingcod for that week. We have four Coast-guard approved boats that provide great action for anglers! We offer 1/2 day, 3/4 day, full day, over-night and long-range trips.
All of Virg's fleet have hot galleys and a top-notch captain and experienced crew. Book a trip:
What if someone catches a lingcod bigger than your's in the following weeks? You are still qualified for the competition!
Once you've qualified, you're in! It does not matter what other anglers catch in the weeks to come. Competition Qualification ends on November 30* Biggest, Baddest Lingcod Competition is always the 2nd Saturday of December, weather permitting.
Who can win? Every qualifier has an equal chance because everyone starts the December fish-off with a clean slate. It all comes down to who reels in the biggest, baddest lingcod on Saturday, December 14.
Last year David Kiel won $5000 with a 17.8 lb.lingcod. In 2016, 13 year old Cody Glynn, a freshman at Righetti High School in Santa Maria, CA, won top prize with a 19.2-pound lingcod. His secret trick? He bought a glow-in-the-dark jig.
"This competition is a lot of fun for us. The fish-off is a high-tension event, but we all have a blast," said Denise DeCock, Virg's Landing owner and sponsor of the $10,000 competition. "It's named after Capt. John Rowley, a long-time skipper at Virg's Landing, who is now retired in Oregon. For many decades he promoted and fostered salt-water fishing on the Central Coast. He loved this sport and we love it, too! I'm happy to continue the tradition of great fishing at Virg's Landing."
The following people have qualified for the 2021 Competition.
| Mike Bonita | Bakersfield, CA | 18.2 lbs. |
| --- | --- | --- |
| Gabe Minetti | Guadalupe, CA | 13 lbs. 2 oz. |
| Sam Matthews | Shell Beach, CA | 14.3 lbs |
| Justin Long | Tehachapi, CA | 6 lbs. 6 oz. |
| Steve Saylor | Fresno, CA | 7 lbs. 2 oz. |
| Todd White | Atacsadero, CA | 5.8 lbs. |
| Sean Fritz | Bakersfield, CA | 12.5 lbs. |
| Evan Keene | Los Osos, CA | 14 lbs. 6 oz. |
| Danny Wynn | Fresno, CA | 13 lbs. |
| John Barkman | Ridgecrest, CA | 14 lbs. 3 oz. |
| Ryan Burgess | Tulare, CA | 8 lbs. |
| Jim Webb | Cambria, CA | 7 lbs. 2 oz. |
| Lanny Beasly | Bakersfield, CA | 19 lbs. 4 oz. |
| Enrique Rodriguez | Morro Bay, CA | 9 lbs. |
| Larry Pitts | Morro Bay, CA | 15 lbs. |
| Jordan Dutra | Hanford, CA | 14.6 lbs |
| Isiah Provchy | Fresno, CA | 7 lbs. |
| Terry Marshall | Morro Bay, CA | 7 lbs. |
| James White | Clovis, CA | 21.3 lbs. |
| Ryan Bandela | Fresno, Ca | 11 lbs. |
| Steve Howell | Morro Bay, CA | 22.5 lbs. |
| Shaun Jones | Moreno Valley, CA | 19 lbs. 2 oz. |
| Marty Perez | Porterville, CA | 14 lbs. 7 oz. |
| Carlos Barajas | Exeter, CA | 14 lbs. |
| Eric Mulanax | Paso Robles, CA | 24.9 lbs. |
| Matthew Gutierrez | Fresno, CA | 21 lbs. 9 oz. |
| Marcus Pruitt | Hanford, CA | 20 lbs. 2 oz. |
| Kris Majern | Fresno, CA | 15 lbs. 6 oz. |
| Lawrence Carlton | | 7.8 |
| Micah Parker | Bakersfield, CA | 10.4 |
| Rick Spradling | Coalinga, CA | 11 |
| Bill Stafford | Tulari, CA | 11.7 lbs |
| Henry Ortize | Delano, CA | 5.5 lbs |
| Michael Papierman | Dana Point, CA | 12 lbs |